PAOLO GIRARDI
Paolo Girardi is a living legend, who could be named as the Black metal Rembrandt, Death metal Caravaggio or Michelangelo of Death. Austere and grim paintings of P. Girardi have coronated the covers of extreme metal bands bands as INQUISITION, DIOCLETIAN, BLASPHEMOPHAGHER as well as countless others. "Armageddon Descends V" will be the first chance ever to see the iconic works of Paolo as well as to witness the Maestro realizing a performance of infernal live action painting.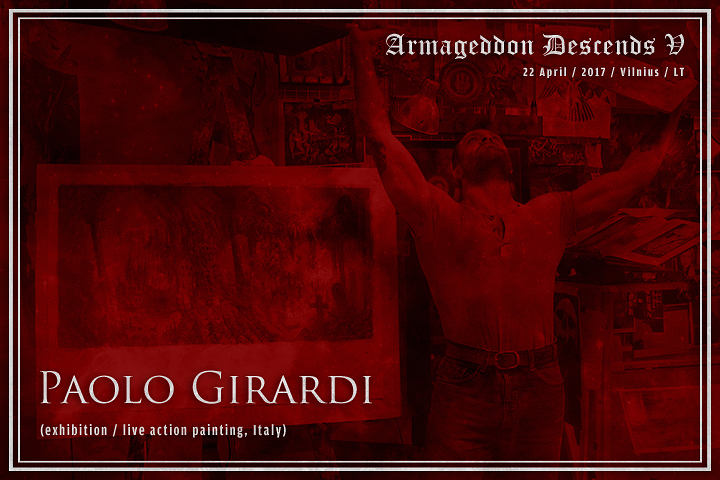 https://www.facebook.com/Paolo-Girardi-231799530190138/
Extreme music festival "Armageddon Descends V"
Date: 22nd of April, 2017.
Place: Culture bar "Kablys", Kauno g. 5, Vilnius, Lithuania.
Price: presale tickets cost 28 EUR.
Tickets: http://bit.ly/ADV-tickets
Bands:
MGŁA (black metal, Poland)
NORDVARGR (industrial, Sweden)
ACHERONTAS (black metal, Greece)
TREHA SEKTORI (dark ambient, France)
EMBRACE OF THORNS (black/death, Greece)
POGROM (power electronics/noise, Lithuania)
BESTIAL RAIDS (bestial black, Poland)
OORCHACH (tribal industrial, Lithuania)
CRYPTS OF DESPAIR (death metal, Lithuania)
ERDVE (experimental hardcore/black, Lithuania)
KARKASAS (post-industrial, Lithuania)
+TBA
Exclusive exhibition of Paolo Girardi + live action painting performance.
Org.: "Nekrokatarsis"
Follow: https://www.facebook.com/armageddondescendsfestival
Event on FB: https://www.facebook.com/events/162089707576036/
Event on VK: https://vk.com/event129713816