Poster / T-shirts / Tickets
The fourth storm of "Armageddon Descends", where the extreme Darkness will be chanelled by 11 metal and electronic acts from 7 European countries is comming. The organising crew – Nekrokatarsis – announce remaining details.
Poster.


Artwork by Saulius Bielskis
Design by Aistė Vyšniauskaitė
T-shirts.
As usual, we have prepared T-shirts with the festival artwork that will be pressed using quality silkscreening. Male and female models, sizes S, M, L, XL, XXL are available.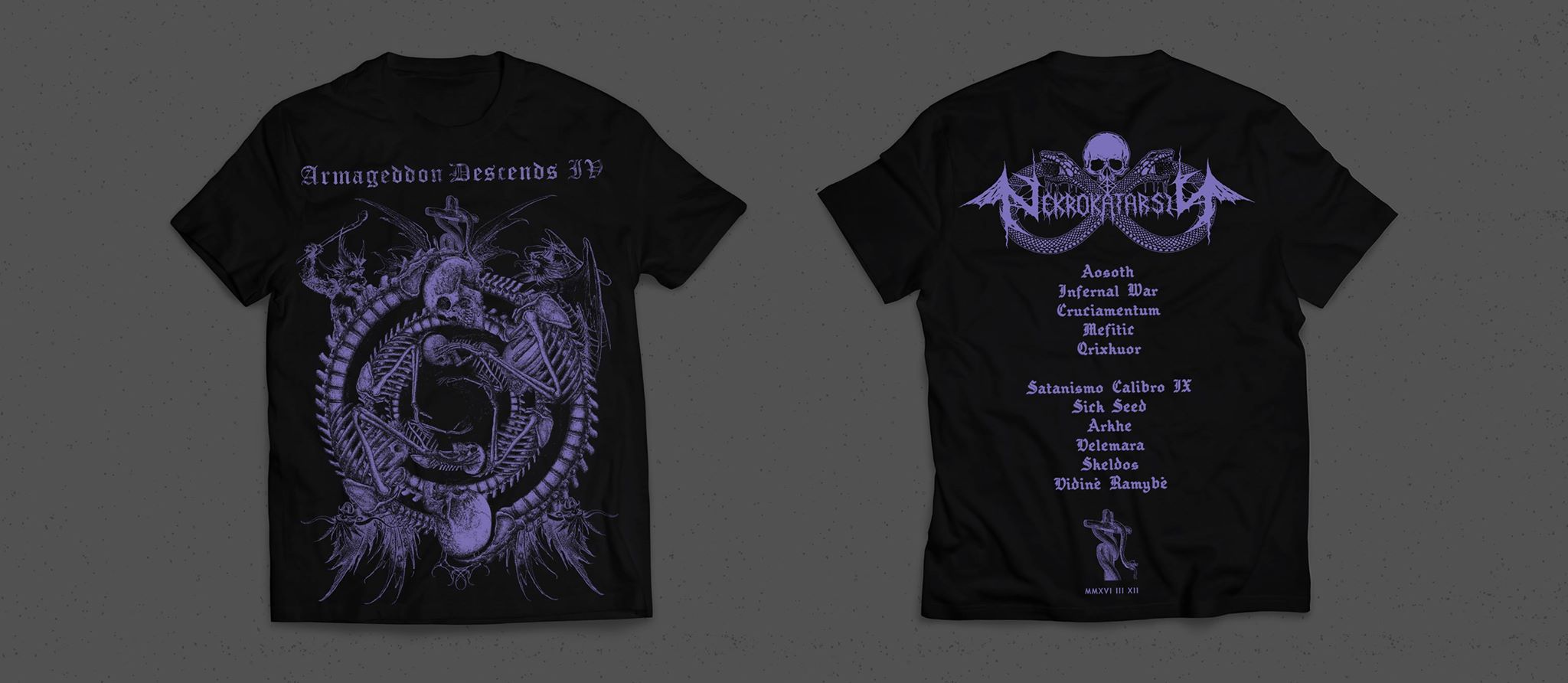 T-shirts on preorder – 10 EUR (see below).
T-shirts at the event – 13 EUR.
Tickets.
This year we are selling pre-order tickets.
Tickets on pre-order – 20 EUR;
Tickets + T-shirt on pre-order – 30 EUR;
Ticket on doors – 25 EUR.
The tickets are sold via safe Paysera system. It allows guests to pay via their national banks, WebMoney platform or credit cards: http://bit.ly/ADIVtickets
Alternatively, one can pay via SEPA payment.
In case of SEPA payment or any questions, contact us for further details at: nekrokatarsis.tickets@gmail.com.
Extreme music festival "Armageddon Descends IV"
Metal of Death stage:
AOSOTH (deadly Black Metal, France)
INFERNAL WAR (sadistic Black/Death, Poland)
CRUCIAMENTUM (true Death Metal, United Kingdom)
MEFITIC (Death/Black metal, Italy)
QRIXKUOR (surreal Death Metal, United Kingdom)
Extreme electronics stage:
SATANISMO CALIBRO 9 (infernal Industrial/ritual Ambient, Italy)
SICK SEED (Industrial/Power Electronics, Finland)
ARKHE (Noise/Drone, Sweden)
SKELDOS (Ambient, Lithuania)
VELEMARA (dark Industrial/Ambient, Lithuania)
VIDINĖ RAMYBĖ (Noise/Power Electronics, Lithuania)
Date: 2016.03.12
Venue: Culture club "Kablys", Kauno g. 5, Vilnius, Lithuania
Tickets: 20-30 EUR, order at http://bit.ly/ADIVtickets
Organization: "Nekrokatarsis" (www.nekrokatarsis.org/en)
Event on Facebook: https://www.facebook.com/events/869734603114768/
Follow: https://www.facebook.com/armageddondescendsfestival