No mercy: INFERNAL WAR will perform in "Armageddon Descends IV"
Each "Armageddon Descends" presented at least one band that strikes with uncompromising brutality and sadistic energy. The fourth cycle of the festival will be coronated by Polish INFERNAL WAR!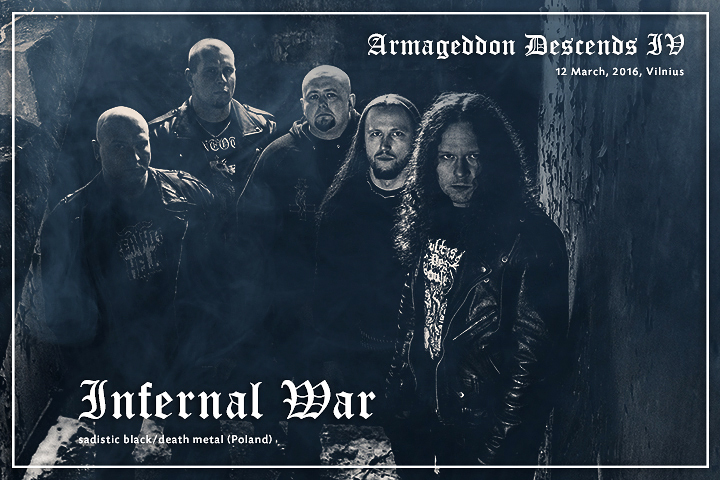 INFERNAL WAR are one of the most barbaric bands of the modern metal scene that play mercilessly fast, forward-marching black metal blended with deadly overtones. The synthesis of nihilistic poetry entrenched in human scorn and the bestial sounds of INFERNAL WAR result in a devastating effect. Moreover, the band has been numerously praised for their solid and impeccable live performances that one will be able to witness during fourth "Armageddon Descends". The band recently released their new album "Axiom" (2015) through "Agonia Records" which will be presented with full force live in Vilnius, March, 2016.
Extreme music festival "Armageddon Descends IV"
AOSOTH – deadly black metal (France)
INFERNAL WAR – sadistic black/death (Poland)
QRIXKUOR – surreal death metal (United Kingdom)
+ TBA
Date: 2016.03.12
Venue: TBA (Vilnius, Lithuania)
Price: TBA
Organized by Nekrokatarsis (https://www.facebook.com/Nekrokatarsis www.nekrokatarsis.org/en)
Event on Facebook: https://www.facebook.com/events/869734603114768/
Follow: https://www.facebook.com/armageddondescendsfestival