First electronic acts: VIDINĖ RAMYBĖ, VELEMARA
As previously, "Armageddon Descends IV" will host a second stage with artists performing powerful extreme electronics. First two (out of six) acts – our own local VIDINĖ RAMYBĖ and VELĖMARA.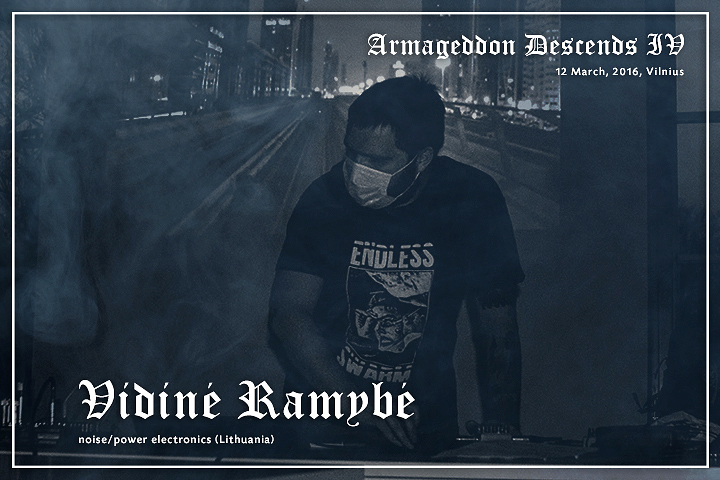 Vytenis Jurevičius photo.
VIDINĖ RAMYBĖ (eng. INNER PEACE) is a noise/power electronics project that rarely performs live. It seems that intransigence towards dominating standards of the scene is a motivating factor behind this unit: he might perform with a professional violinist while discussing suicide, he might drown the audience in a lake of complete analogue feedback with visuals in the background. Even the name of the project seemed a bit strange at the beginning, after each release and performance it becomes more and more understandable.
VELEMARA is a project by Skol (INQUISITOR, NYKSTA) of cold dark ambient/industrial that has risen from the ashes of HAEIRESIS. After the first impressive album, which was release by the scene-leading label Autarkeia, he focuses on live performances that are rare and convincing. It encompasses sounds that have no place for hidden comfort or calmness: it is madness, separation, solitude and death.

Extreme music festival "Armageddon Descends IV"
Metal of Death stage:
AOSOTH – deadly black metal (France)
INFERNAL WAR – sadistic black/death (Poland)
MEFITIC – death/black metal (Italy)
QRIXKUOR – surreal death metal (United Kingdom)
+ TBA
Extreme electronics stage:
VIDINĖ RAMYBĖ – noise/power electronics (Lithuania)
VELEMARA – dark industrial/ambient (Lithuania)
+TBA
Date: 2016.03.12
Venue: Culture club "Kablys", Kauno g. 5, Vilnius, Lithuania
Price: TBA
Organization: "Nekrokatarsis" (www.nekrokatarsis.org/en)
Event on Facebook: https://www.facebook.com/events/869734603114768/
Follow: https://www.facebook.com/armageddondescendsfestival