CULT OF FIRE will perform in "Armageddon Descends III"
The line-up of "Armageddon Descends III" is nearly completed. We are proud to announce one of the main headliners – Czech esoteric black metal band CULT OF FIRE.
It could be noted that in recent years the field of esoteric black metal has been strongly marked by the Czech scene. Especially two bands – INFERNO and CULT OF FIRE – have left a significant mark in this sphere. Both of these bands in 2013 released full length albums that instantly gained praise and attention of the black metal underground. This resulted in gaining highlight positions among the lineups of many different underground-oriented festivals and frequent concerts, offers to play in North America and various other destinations.
CULT OF FIRE are in comparison a rather young band that has released only two full-length albums. The first album "Triumvirat" (2012) immediately gained quite a lot of attention to the trio from Prague. Listeners were surprised by the not only melodic, atmospheric black metal mixed with esoteric topics, but also the original and exclusive imagery on the scene. Long and pointy hoods, robes, incense, skulls, candles and pitchfork scythes – today it has nearly become a trend among many black metal bands, however CULT OF FIRE was one of the first to revolutionize the new wave of esoteric black metal aesthetics.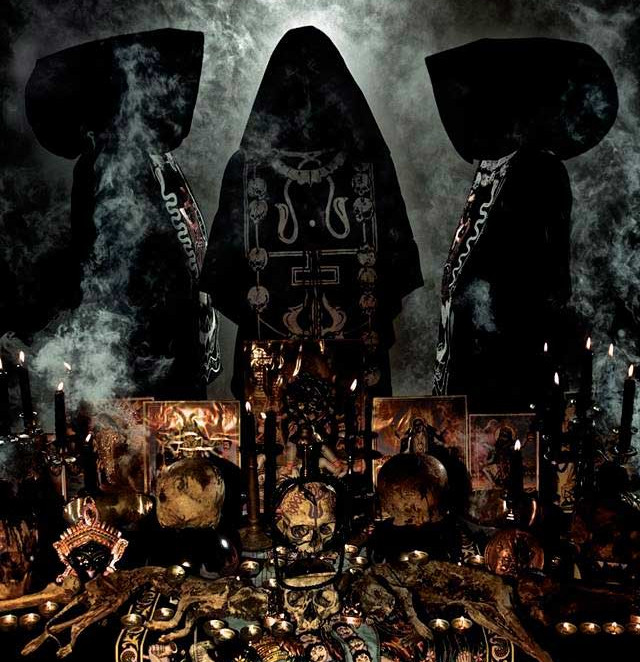 The crucial turning point came in 2013 when the band released their second full-length album "Ascetic Meditation of Death". An incredible atmosphere lies in it's walls of sounds – it ranges from violent and straight-forward black metal to soft, melancholic visions that pervade the worship of death, darkness and secrets of mysticism. The album deals with oriental esoteric themes where sounds of chaos coincide with sounds of harmony of instruments such as the sitar, organs or bells.
This year CULT OF FIRE will become one of the banner holders and highlights for the main stage of "Armageddon Descends III".
Extreme music festival "ARMAGEDDON Descends III".
Metal of Death stage:
CULT OF FIRE (Esoteric Black Metal, Czech Republic)
TORTORUM (True Norwegian Black Metal)
PROFANAL (D-beat Death Metal, Italy)
FUCK OFF AND DIE! (Black / Thrash / Crossover, Lithuania)
+ TBA
Extreme electronics stage:
BIZARRE UPROAR (Harsh Noise, Finland)
HUMAN LARVAE (Power Electronics / Industrial, Germany)
ANEMONE TUBE (Industrial / Dark Ambient / Noise / Drone, Germany)
POGROM (Power Electronics / Noise, Lithuania)
TIESE (Drone / Harsh Noise / Experimental, Lithuania)
HASSOKK (Post-mortem, Lithuania)
Location: Club "Kablys" Kauno g. 5, Vilnius
Date: 14th March 2015
Price: 20 EUR
Facebook event: Link
Follow: Armageddon Descends Festival